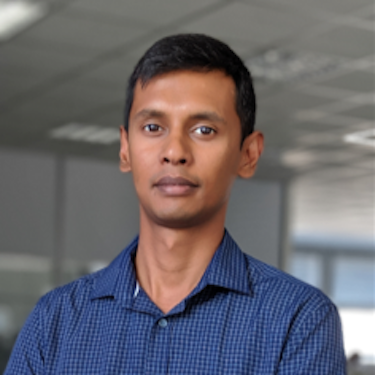 Biography
Guruduth is a Senior Consultant for Manufacturing, aimed at digital transformation, in Robert Bosch,  located at Istanbul, Turkey, since 2 years. He brings in an immense expertise in benchmarking of production systems and adoption of lean manufacturing principles throughout the value chain. He has led multiple engagements involving end-to-end consulting leading to implementation roll-outs towards digital transformation, with manufacturers in India and Turkey.
He has completed several plant studies focused on Industry 4.0 in multiple industries such as automotive, textile, industrial equipment, process and white goods.
In his current role, backed with over 11 years of experience in manufacturing industry for capital goods, process and automotive industries, Guruduth has been advising industry leaders across the manufacturing sector in identifying the transformation projects in a structured and holistic manner, in order to overcome their challenges and to realize their vision.
Guruduth started his career with M/s Larsen & Toubro, Mumbai, India in the capital goods industry for a tenure of 4 years. Following which, he moved to M/s Bosch Limited, Bangalore, India, in the automotive industry, wherein he served for 7 years, before taking up his present role as a senior manufacturing expert, since 2 years.
Guruduth has enormous manufacturing experience in leading operations in a labor intensive environment, including plant-wide functional responsibilities. He has undertaken several projects involving adoption of lean manufacturing fundamentals, automation and digitization. He is also certified by Shainin, The Red-X Company, for quality problem solving.
Guruduth is a graduate from National Institute of Engineering, Mysore, India in Mechanical Engineering in the year 2006.
Summary of the talk
Process Maturity in Digital Transformation
Any digital transformation initiative begins with establishing a stable, unambiguous value-added process, upon which digitization serves a tool for continued improvement. The importance of realizing a lean and mature process in standards and in practice can never be overlooked when it comes to realizing the possibilities through digital transformation.
Bosch, being a pioneer in adoption of lean manufacturing fundamentals and state-of-the-art production techniques, places its importance on the road to a digitally transformed factory beginning with a holistic and value-based approach.
Bosch has implemented over 800 Industry 4.0 use cases in its own 270+ plants and also several global customers. Irrespective of the product, process and industry, the importance of identifying value-based improvement measures based on a conventionally well established process has emerged while looking at the current industrial revolution.
This talk focuses on the prominence of using digitization techniques as a next step, over and above the pedestal of a mature process, rather than as a shortcut.
The benefit of this systematic approach and the consequences of skipping towards digitization would be highlighted.